DME has served mold makers worldwide for over seven decades, and we're still your  best choice for precision machined steel plates, mold base steel and custom mold bases.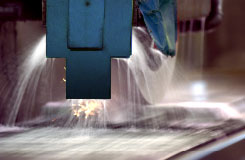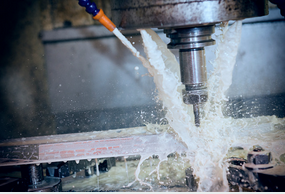 DME offers blocks of pre-squared tool steel. Available with fast delivery from our large steel inventory, blocks can be purchased within specified thickness that are square and parallel within industry standard tolerances. Closer tolerances are available upon request, we offer six-sided machining to fit our customer's needs.
DME's pre-squared steel blocks save you time and money, freeing up your valuable time and assets for the detail work. Profitability is a result of Productivity, and DME pre-squared blocks are the siolution

3 North American Steel Conversion Centers
With our conveniently located North American Steel Conversion Centers (and many more worldwide), DME provides its customers with an unmatched range of machining services, quality, and speed of delivery. DME offers the best in class manufacturing solutions, including CNC machining, grinding and turning. Our flexible manufacturing services run 24/7, providing you with efficient, cost-effective solutions.
DME offers different ways to cut steel:
Saw Cutting: Saw cut precisely to your dimensions ideally suited for high performance tool steel sensitive to heat
Flame Cutting: Flame cutting is referred to by various names, these include: oxyacetylene cutting, oxy-fuel cutting, and oxy cutting. This process relies on fuel gases and oxygen to cut through steel (and other metals).
Plasma Cutting: Similar to flame cutting, plasma cutting shoots a high speed jet of ionized gas through an opening. This gas is being both superheated and additionally electrically ionized by the electrical channel. This forms a completed circuit traveling back to the cutter through a grounding clamp. This ionized gas is referred to as plasma. As more electricity is added, the higher the temperature of the plasma. The plasma arc created this way is able to super heat the metal while the gas simultaneously blows away the melted material. This creates a cut at the specified point.
Waterjet Cutting: DMES's high-pressure waterjet cutting uses water that compressed up to approximately 60,000 psi. The process creates a precise and powerful cutting tool which has the added benefit of causing NO heat damage or material distortion to the steel.



Cutting
Saw cutting
Wire EDM
Flame / Plasma Cutting
Water Jet Cut
Cutting Steel
At DME our precision steel plate saws have the capability of producing square-cuts within tight tolerances.
Cut to your size requirements.

Broader size tolerance to meet all of your needs.

Available in all 7 DME Steel families.

Available "Off-The-Shelf" for rapid shipment.
Cut to your size requirements.

Broader size tolerance to meet all of your needs.

Available in all 7 DME Steel families.

Available "Off-The-Shelf" for rapid shipment.
DME Steel comes off-the-shelf to you when you need it – Immediately!
DME Steel is readily available for all markets – more than just mold industry applications. Our steels machinability, uniformity, and consistency make it ideal for a wide variety of uses.
Our exclusive supply from the best steel mills allow DME to maintain readily accessible quality stock. This availability means DME can deliver product to you quicker and easier.
 DME – ready to support your steel needs today!


6-Sided Finish:
Available in RGM & FGM with Square Milled Length & Width
DME's six-sided RGM and FGM are manufactured using the very latest milling technologies to produce a micro fine finish that set a new Industry standard for flat and parallel performance with an ultra-smooth finish.  This cost-effective alternative to the finished grinding is available for all our stocked steel. The process is also "green" as it avoids the use of "ground sludge" which is synonymous with the Blanchard grinding process and typically finds itself being disposed of in landfills. By having us perform this work for you, you can save valuable time and free up personnel and machine capacity. As a company you will be saving time and money.
Contact us to find out how to do this and how much you can save.





Grinding
Rotary Grinding
Finish Grinding
Steel Grinding
To create a flat surface on steel a grinding wheel moves across the planer surface of the steel removing unwanted surface material (a process know as grinding) . Steel can require surface grinding for various reasons, some of which may include:
Quicker surface material removal
Flat planer surface is required
Precise thickness tolerances are needed
Surface requires a smooth finish
There is a need to remove material from very hard materials
Grinding is well suited for any part that requires a close tolerance.

Additional Machining Services
Working with the world's leading mills our selected grades of steel are formulated for the precise requirements of the most industries. Steel of the highest quality is complemented with our value-added machining services (such as gundrilling, counterbores, clamp slots, chamfers, lift holes and pockets) which enable us to meet the most demanding specifications and delivery times

Milling
Rough Pockets
Finished Pockets
– TOLERANCES:
– Standard ±0.001"
– High tolerance of ±0.0002"
Rough Tapered Pockets
Finish Tapered Pockets
Insert Pockets
Heel Block Pockets
Slide Pockets
Spring Pockets
Lock Pockets
Runner Pockets
Parting Line Relief
Hot Half Pockets
Hot Runner Manifolds
Slots
Slots
Clamp Slots
Pry Bar Slots
Wire Slots
Round Pockets / Bores
Rough Bore Holes
Finish Bore Holes
Leader Pin Holes
Bushing Holes
Nozzle Bore
CNC Machining Steel Plate
DME Steel conversion facilities are equipped to handle a wide range of custom steel plates, from small plates used in precision part manufacture to large plates for automotive or caps & closures tools. We offer the highest standard in reliability with highly experienced machinists.
With our decades of experience continually being passed down to the new workers through cross training and apprenticeship opportunities, we fuse modern ideas and energy with time tested, wisdom filled methods and traditions to ensure our workmanship is extremely high quality while still being modern.
CNC Machining
Computer Numerical Control machining, or CNC machining, uses computers to control lathes, mills, routers and grinders.
CNC Machining Has Made Manual Machining Obsolete
Here Are A Few Examples Of How:
Computer precision makes cuts and adjustments smaller than the human eye can perceive.
CNC Machining takes place at a speed that can't be matched by manual NC Machining.
CNC programing allows models to be identical and done in the exact same movement every time.
Jobs / Cuts That Would Be Impossible for a human are done effortlessly by a CNC Machine!



Drilling
Waterlines (Gun Drill)
Return Pins
Return Pin Spring Holes
Guided Ejection
Ejector Pin
Angle Pins
Stripper Bolts
Bolt Holes (Drill, C'Bore, tapping)
Eye bolt/Lift Holes
Spring Pocket Clearance
Drilling Steel Plate
Drilling a steel plate is a simple process where a drill bit, an extremely tough small metal cutting device with multiple points, quickly rotates thousands of time each minute with tremendous force. This drill bit is pressed against a steel plate in a cold cutting process that causes the metal to be pulled out by the rotating drill bit boring a small circular hole into the plate.
The process also removes the shards of steel that once occupied the area that the drill bit passed through. Typically, this leaves a sharpened edge on the side that was entered.
Deep Hole Drilling
Deep hole drilling occurs when machining a drilled hole with a depth to diameter ratio of more than 10 to one. This process is a necessity for a wide variety of manufacturing industries. A few examples include:
Aerospace
Automotive
Gas Mining & Manufacturing
Heavy Industries
Medical
Mold Maker Manufacturing
Oil Mining & Manufacturing
Many More!
Deep hole drilling uses a series of special processes including, Gun Drilling, BTA Drilling, Ejector Drilling & even custom processes engineered specifically to each project. These custom processes meet the appropriate tolerance limits while simultaneously surpassing both precision and accuracy goals.
Gun drills are a special kind of drill known for having a straight flute which injects fuel through its hollowed body to its cutting edge. A typical hole depth with a gun drilled machine center should be less than a 50-1 ratio, however, this process can yield a depth to diameter ratio of 300 to 1. At DME we use dedicated gun drills to ensure the highest quality possible.
Click the button below to go to DME's Steel Plates Configurator.