Augmenting our superior product line is our expert Service Teams which provide customers with unrivaled knowledge, expertise, and service to help them meet their own customer's needs. Our journey is a never ending one and we keep innovating to keep ahead of competition and be a position to surpass our customers expectations.
Controller Repair & Callibration
Barrel Repair & Resleeving
Steel Converting & Machining Services
DME offers both standard and non-standard mold technologies. Custom solutions are available through our dedicated technical specialists who can provide technical advice, fast quotes and the assurance of receiving a quality product. The DME Engineered Solutions & Services group works with the DME locations worldwide to offer the industry's widest range of engineered solutions supported locally with our specialized technical service team. Leveraging its 75 years of mold technology experience and its global capabilities DME is ideally positioned to deliver the best value in terms of performance and delivery.
DME Services
DME's Applications Engineering Department is focused on one thing – to help you produce better parts. DME customers worldwide utilize our applications engineering expertise for:
Mold Bases and Specials
Components or Mold Action Device
Hot Runner Systems
Temperature Controls
Quick-change Molding Systems
MRO Products
Die Sets
Die Cast Tooling
…and more.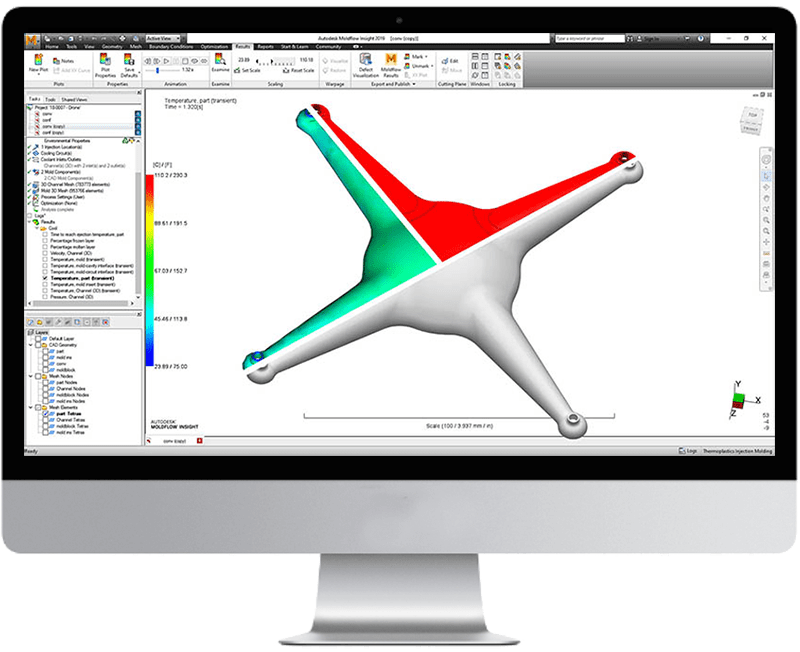 A keen focus on our customers is a major reason why DME remains the standard-setter in tooling technology against which all others are compared.
Contact DME Applications Engineering Services, by clicking the button below, to move forward on your next initiative.
Hot Runner Services & Maintenance
From single nozzles to fully assembled hot halves … and everything in between
Quick, cost-effective hot runner service
DME is committed to help you optimize the performance of your hot runner systems. Applying the knowledge we've gained over nearly 30 years of providing hot runner technology to customers worldwide, the DME hot runner service center continues to deliver fast, cost-effective service.
Click the More Info button for a detailed look at DME's North American Hot Runner Service Center.


Controller Repair & Calibration
DME understands that every minute your not up and running is money lost, and a poorly functioning controller in unacceptable. The DME Controller Service Team is ready to repair your non-functioning controller or calibrate your DME brand controller to required specification.
Have another brand of controller that  needs repair or calibration? No problem, DME also will perform repairs and calibrations on other of controllers similar to the DME brand, that are not under manufacturers warranty.
Contact a DME expert today and get back in business.
Click the More Info button for a detailed look at DME's North American Hot Runner Service Center.
* Excluding Mold Masters brand


Professional, One Day, Diagnostic & Channel Cleaning Service
DME CoolingCare Pro is an inexpensive, worry free opportunity to experience the benefits of a DME CoolingCare unit in a one day trial.
ProService Benefits Include:
Clean (1) tool with up to 6 cooling channels
Cleaning media to address various contaminates ($100.00 value)
On site service technician ($800.00 value)
No inventory or storage concerns
DME coordinated round-trip transportation†
Try-it before you buy-it
Avoid capital expense approvals
Service provided in your shop. No need to send the tool out to be cleaned
Guaranteed improvement of your tool or the service fee is refunded




For more information on our CoolingCare ProService download the PDF information below:
Breaking the Mold with Forward Thinking
A mold design is only as good as it's functionality. By implementing DME's analysis services to maximize efficiency of channels and reduce part temperature delta, you can achieve maximum efficiency in your molds with greater return on investment and longer tool life all while producing superior product and reducing waste.
We understand press operation and capabilities
Autodesk Moldflow certified staff
Filling, Packing, Cooling, Warpage, Fiber orientation, Part/Mold
stress and much more
Reduce cycle time and warpage
Lower scrap and waste
Increase profit margin
Enhance mold performance


For more information on our MoldFlow Services contact a Certified AutoDesk MoldFlow DME Team Member by clicking the button below.
Barrel Repair & Resleeving
DME offers a high-quality low price alternative to competitive barrel resleeving and repair options with fast turnaround time to maximize your uptime. Our service is available for D-2 steel, CPM-10V and CPM-420V.
If your barrel is beyond economical repair, DME stocks new barrels in a wide variety of models and sizes with the highest quality and fastest turnaround time in the industry. Contact DME for more information.

For more information on our Barrel ReSleeving services contact a DME Team Member by clicking the button below.
Steel Converting & Machining Services
For decades  mold-makers have asked DME for ways to help them focus on high-value core and cavity work, so our Steel Converting & Machining Services were established.
Using state-of-the-art CAD software, DME can mill tool paths for even the largest and most complex parts – freeing up moldmaker resources to do the finishing work.


For more information on our Steel Converting & Machining Services contact a DME Team Member by clicking the button below.
Capabilities:
Cutting
Rotary Grinding
Finish Grinding
Milling
Duel Head Square Milling
Precision CNC Milling / Boring
Drilling
Gun Drilling